Discover more from Dear Mister Ward
The stories behind a collection of letters sent to Montgomery Ward by folks living in the American Heartland from 1932-1942, compiled into the book called "Dear Mister Ward."
Must Love Strawberries and Pink Nosed Rabbits
The happy ending to a letter from the Lonely Hearts section of Dear Mister Ward
Since Valentine's Day is coming up soon I thought I would share what I've learned about the happily ever after ending to one of the "lonely hearts" letters in Dear Mister Ward.
This letter is one of what I have come to refer to as thee "lonely hearts" letters. They are a group of letters that were sent by mostly men to the Montgomery Ward catalog hoping that they would "open a new department" and supply them a "a housekeeper, a girl or a wife to married." Clearly the courting options where these men lived were rather limited so they reached out to Montgomery Ward to fill this need as they did all others. There are requests for info about "the babe on page 2," and "the lady you wrote me about," as well as heart felt pleas for companionship.
Dear Mister Ward is a reader-supported publication. To receive new posts and support my work, consider becoming a free or paid subscriber.
We've all heard of so called "mail order brides," however that misnomer wasn't readily adopted until the 20th century. The forming of those relationships was far more complicated than ordering "pink-nosed rabbits" and radios from a catalog. Needless to say romantic partners were never among Montgomery Ward's sundry offerings.
Most if not all of these letters saved by grandma seem to be written with a sense of humor and awareness of the absurdity of their requests. None more so than this one by Gentry Purviance McCorkle Sr.
The letter goes on for awhile in hilarious but also touching detail that still only scratches the surface of the life G.P. led.
I've been lucky enough to find quite a bit of information about him and connected with several relatives, although I am still hoping to connect with a direct descendant. I started with Ancestry.com and built a tree which showed me that he had 3 wives in his lifetime.
I've put 10 copies of the first edition for sale on the website if you're looking for a gift for your valentine. I'm happy to sign copies and write a dedication as well.
Knowing that this letter had to have been written between 1932 and 1942 the deceased wife mentioned here must be his second wife who died in 1931. Which places the letter at 1933.
With no help from Montgomery Ward he managed to find love after another 5 years. Marrying Maude Simons, to whom he would be married for 24 years until his death.
By all accounts they were very happy together. A nephew posted a lovely tribute to his Uncle Gentry on Ancestry.
During their courtship and after their marriage Uncle Gentry faithfully wrote to my parents always thanking them for introducing him to Aunt Maude. He had an Irish tongue and lots of humor. He often signed his letters to them,

"Your sinful brother, Gentry"

On one occasion, Aunt Maude was invited to a gathering of her friends in connection with her years of work at the Glendale Adventist Hospital. Most of her friends had known of her as Maude or Mrs. Fred Riley. On this occasion some few years later, she was accompanied by her new husband, Mr. Gentry McCorkle. He was accosted by a person who obviously knew the family by name but not by face. This person spoke to Uncle Gentry with the greeting, "You are Mr. Riley, I presume?" Uncle Gentry's response, with a smile and a friendly word, was, "No, I used to be Mr. Riley but now I am Mr. McCorkle."
The family has also been kind enough to let me share some photos of them.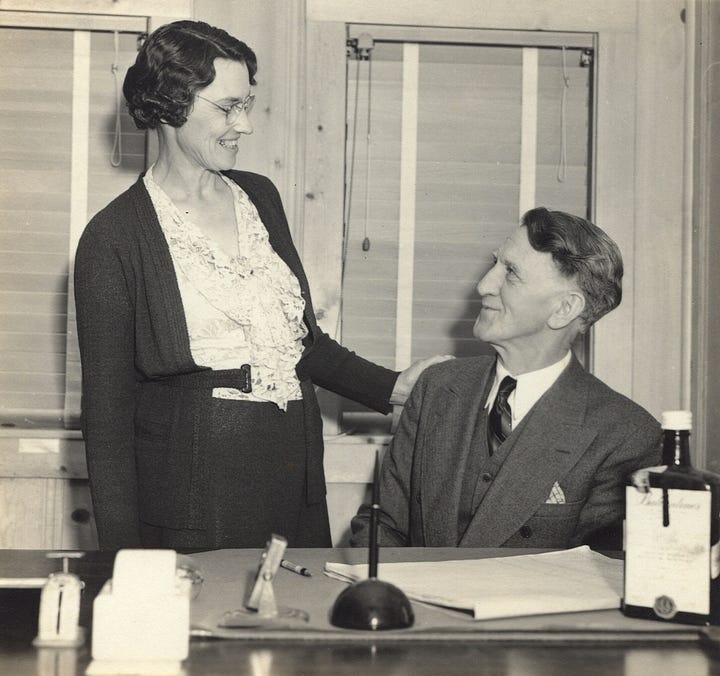 I will definitely be sharing more about G.P. McCorkle in future posts. He led an incredibly full life including time as the secretary and co-founder of Llano Del Rio, one of the largest socialist communities in US History. He also wrote other brilliant letters to newspapers and an autobiography that one of his nephews is in the process of transcribing. What I've seen so far has been as witty and wise as his letters.
G.P's letter has been one of the highlights of both the performances of Dear Mister Ward Live that I've done with the help of Eggtooth Productions and the Shea Theater in Turners Falls, MA. The actor Lindel Hart gave phenomenal performances both times. Capturing the wit of the letter very successfully. I've included the clip of his performance from the second show.
If you would like to see the whole performance just become a paid subscriber. I haven't finished editing it yet but will be posting it soon.
Dear Mister Ward is a reader-supported publication. To receive new posts and support my work, consider becoming a free or paid subscriber.