Discover more from Dear Mister Ward
The stories behind a collection of letters sent to Montgomery Ward by folks living in the American Heartland from 1932-1942, compiled into the book called "Dear Mister Ward."
Steel Roofing and a Very Charming Baby
A letter from a mother to Montgomery Ward and their response
Since Mother's day is coming up it seemed like an appropriate time to highlight a couple of letters that aren't in the book of Dear Mister Ward.
While most of the letters my grandma saved are complaints of some kind this one is something entirely different. It was written by a mother in Florence, South Dakota in 1942 who was reaching out to a trusted company for "a visit," and to share pictures of her baby. Yeah, she really sent baby pictures to a customer service department because of what Montgomery Ward had meant to their family.
My uncle found these letters after I first published the book. I thought about putting them in the second printing but when I started looking into the family I found out that the baby is still alive and well. I therefore didn't want to include the letter without getting her permission. Eventually I did make contact and we have exchanged several emails and facebook messages. She is even sending some photos for me to scan which I will post later.
Also included is a response from Montgomery Ward. The only response to the letters which I have. I can't be sure, but even though the response is credited to her supervisor I believe it was probably written by my grandma. In that era it seems that it would have been unusual for a company to send a letter to someone signed by a woman. I certainly like to think she wrote it since it is so sweet.
I've included images of the letters as well as transcriptions.
---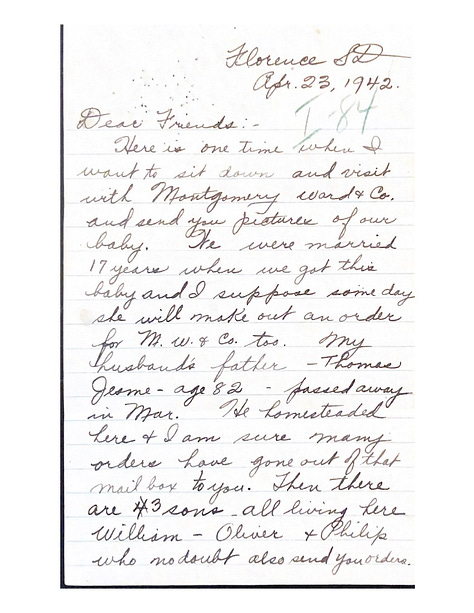 Florence SD
April 23, 1942
Dear Friends,
Here is one time when I want to sit down and visit with Montgomery Ward & Co and send you pictures of our baby.  We were married 17 years when we got this baby and I suppose some day she will make out an order for Montgomery Ward & company too.  My husband's father - Thomas Jesme - age 82 - passed away in March.  He homesteaded here and I am sure many orders have gone out of that mail box to you.  Then there are 4 3 sons all living here William - Oliver + Philip who no doubt also send you orders.
One of the picture shows the corn crop with steel roofing I got from you.  I want to thank you for getting that to me.  You advised me to order it at once, which i did.  Now this summer or fall I plan to fix up the barn and hope I can get steel roofing for that too.  What do you advise or think about that?  Thank you also for your catalog.
I suppose you are really too busy to read a letter like this but I have heard FDR reads a personal letter himself once in awhile.
Would you please return the picture after you and some of yours have seen them?
In these times it is nice to have Montgomery Ward to think of as a rock in a storm.  Come what may.  I know you will continue to serve the public well.  I often marvel at the speed with which you fill orders.  However that does not seem humanly possible - or expected in these times.
Thank you for all you have meant to us.
We remain yours truly
Mr and Mrs. William Jesme + Helen Grace
Dear Mister Ward makes a great gift for your mom. I have just a few copies of the first edition left and would be happy to sign and inscribe them for any mother in your life.
Dear Customers:
You can be sure it was with a great deal of interest - and satisfaction too, I must admit - that I read your recent letter.  It isn't often a customer writes Montgomery Ward to just "visit" so to speak, so it was real pleasure to read your letter.
I enjoyed looking at all your pictures too, and I can well understand why you are the very proud parents of Helen Grace.  She must indeed, be a very charming baby.
Considering the length of time you have traded with Wards, I believe you realize it is our constant aim to serve our customers to their complete satisfaction.  when we have succeeded in doing this, we enjoy being told about it.  After all, we are "Just folks" too, and when we please out customers it is only natural that we like to hear about it.
Being that you are planning to repair your barn this summer or fall, nothing would please me more than to be able to tell you we could supply the steel roofing you need.  But, for the duration of the war, it is impossible for us to get any more roofing from the factory.  All steel is being used by the government in the production of war materials.
In times like these it is not easy to take care of all of our customers' wants.  But, insofar as possible, we are doing our very best to supply our customers with the merchandise that can still be obtained from our factories.
In closing, Mr. and Mrs. Jesme, I would just like to assure you that regardless of how we are handicapped by the present situation you have my assurance that we will nevertheless do our very best to continue to please you in the future as we have done in the past.
Sincerely yours
J.D. Bullock, Manager
Saint Paul Branch
---
For my next post in a couple weeks I'll be revisiting Cy Frailey who taught the letter writing workshop my grandma took at Montgomery Ward. You can see that it paid off in the response she sent to the Jesmes. I'm almost done editing a film strip that he released. I've cleaned up all 136 frames as best I can and just need to sequence them.
In the meantime I will be posting something to the blog only (not sent via email) about the story behind Dear Mister Ward. It occurred to me that while most folks reading this have purchased a book I should do an intro post for everyone else. So, if you're interested in reading that look for it on the blog soon. You can reach it at https://dearmisterward.substack.com and while you're there check out the Notes feature where I'll be posting some photos or shorter piece of content.
Dear Mister Ward is a reader-supported publication. To receive new posts and support my work, consider becoming a free or paid subscriber.